Art on the Steinberg FRESH.ICONIC.STYRIAN.
International cartoons and creative morsels from Austria, Switzerland, England and Israel
"Wo i geh und steh, is' oafoch sche!" - "Where I go and stand, it's simply beautiful land!" Styria can be associated with so many things: beautiful landscapes, idyllic settings, good wine, juicy apples, strength-giving pumpkinseed oil, famous personalities like the Archduke Johann Yodeler, lederhosen pants and dirndl dresses, the chamois, Styrian folk traditions, their dialect, and so much more.
2022: International, critical and humorous artworks dedicated to the theme FRESH.ICONIC.STYRIAN. -"FRISCH.KULTIG.STEIRISCH."
"It takes a lot of courage for a non-Styrian to create an exhibition about Styria in Styria;" a statement that Upper Austrian curator Michaela Maria Fuchs, a.k.a. "Kulturfux", has now heard several times. "I was happy to accept this challenge and began my search. Cuisine, language, music, famous personalities, creative figures, all came to mind, many of whom might already be in the Kulturfux network," states the exhibition organizer. Not everyone can pull something Styrian out of their hat at a moment's notice, but despite initial difficulties at the start of the year, artists from Austria (with and without Styrian roots), Switzerland, England and Israel were won over to the cause.
The result truly is something to behold, not just visually but through sound and feeling as well. The Styrian judges at Salzwelten gave their approval and support to the project, providing constant advice and resources.
With humor, everything goes better and more smoothly. Over 100 works by 20 international artists are dedicated to the theme "FRISCH.KULTIG.STEIRISCH"(FRESH.ICONIC.STYRIAN). Critical observations from at home and abroad, antlers with a modern twist, wooden lederhosen, and a nailed heart are just some of the works on display, including a number in multimedia format, at the new "Art on the Steinberg" exhibition.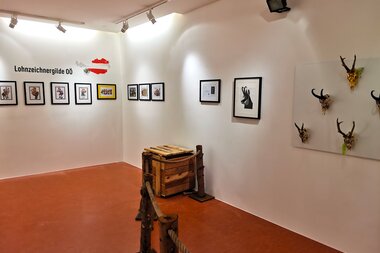 The steps up to the exhibition first welcome visitors linguistically with an honor-guard of worldly wisdom in dialect. Immediately, guests are immersed in a 100% Styrian feel, starting with a Styrian version of Who's Who, featuring works by caricaturist Alfred Raschl, select cartoon classics featuring Superrudi by Markus Szyszkowitz, and critical perspectives by Rachel Gold.
In the next room, members of the sketch-artist group "Lohnzeichnergilde OÖ" enthrall the viewer with a Styrian band, a full Ausseer boat and the Styrian hat by Milan Ilić. Philipp Pamminger presents original prints and his creative chamois skulls. Wolfgang Hauer shows his Styrian Garden and Cheeky May plays with the word "STEIERMARK" (the German word for "Styria").
The exhibition continues in authentically Styrian fashion with a selection of celebrities by Bernd Ertl and a series of Styrian literature inspired artworks by Margit Krammer. Original and entirely unique are the oversized lederhosen and the amazing pike by Woodywood, serving as wonderful a photo opportunity. A cloche of sound envelops visitors at the touch of a button, prompting the occasional person to join in the yodel. The two nail-art works from the current UNIKAT cycle of Salzburg artist Günter Edlinger provide the finishing touch in a room certain to amaze.
Also featured are critical and humorous perspectives from Switzerland and Great Britain, by Regina Vetter, Christoph Biedermann, Stefan Haller – Schlorian, Michael Mittag, Andreas Ackermann - Oger, Silvan Wegmann and Peter Schrank.
For the finale, the art takes a multimedia turn, courtesy of local artist Wolfgang Menschhorn, who was able to express himself in film, showing us, for example, Eve and Adam in a Styrian version of paradise. Depicted in a Garden of Eden-like setting are scenes of pure relaxation, such as a Styrian-style picnic of typical local delicacies, with the picnickers sporting folk costume.
"Sadly, I won't be able to wear my dirndl to the grand opening since I have offered it as an exhibit for the show. And I will definitely not be showing up on April 1st as Eve, as my bikini body is still a work in progress," jokes curator Michaela Maria Fuchs.
Likewise, in the same fantastical world is a selection of dog-bowl chairs, known in these parts as Schlabberstühle. If Archduke Johann had owned a dog, it would definitely have gobbled up its food from one of these three specially designed chairs. After all, even the basic needs of aristocratic pets should be met in style.
Meanwhile, we also encounter the LOCUS by Wolfgang Menschhorn, a privy that sings out that it doesn't have any time right now because it is occupied. As visitors leave, Woodywood's "Trachtenmeister" bids a gentle "Pfiad di" farewell and is more than happy to pose with you for a selfie.
We invite you to come to Salzwelten in Altaussee and, either before or after your visit to the salt mine, enjoy this truly original exhibition. Admission is free.