School of Salt!
Your journey into the world of salt begins while you are still at school: We offer teachers free interdisciplinary teaching materials to prepare the class for their visit to Salzwelten.
---
We whet your pupils' taste for salt starting in the classroom
A class trip to the salt mine sparks all kinds of questions, even long before the children explore the mine tunnels for themselves. Our excursion program provides added support to teachers ahead of the trip in the form of teaching materials that give pupils an integrated approach to the theme of salt. In this way, the interdisciplinary "Subterranean Classroom" actually begins right there in the real classroom!
Salt: essential for life. Nutrional knowledge: essential for a lifetime!
Why is salt white? What do we need it for and how much of it should we have? Why is salt often referred to as a "history fridge"? And how did it get into the mountain in the first place? These, along with many other thoughtful questions, are on the tips of the children's tongues whenever they first set foot inside the salt mines in Salzburg, Hallstatt or Altaussee.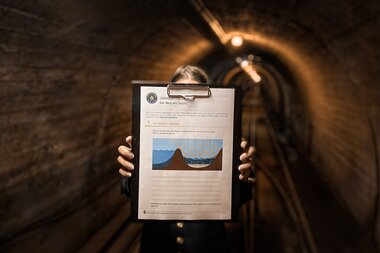 So that school classes enter our mine galleries prepared to the best extent possible, as we supply you with all the necessary knowledge, well before the actual fieldtrip begins. If pupils focus on the theme for an extended period of time, they benefit long after the visit is over: salt serves as the "spice of life" that carries each and every one of us. Too much of it can have adverse health consequences – and too little may well prevent our physiological processes from functioning correctly.
Teaching materials about much more than a mineral
Sea salt, rock salt, evaporated salt or even Himalayan salt – what is your preference? The vast array of salt varieties is just one of the many food choices we face in daily life. No wonder that school children are sometimes overwhelmed and often mislead in their decision-making by trends and marketing. Never before have the choices been so many and varied – and never before have nutrition knowledge and consumer competence been as important as they are today. After all, over half of over-fifteen-year-olds are overweight and therefore in danger of developing lifestyle disorders such as cardiovascular disease and obesity.
Knowledge about salt has far-reaching consequences that extend far beyond the confines of the mines themselves. In cooperation with the association Land schafft Leben, we offer visiting classes a collection of teaching materials that can be used to prepare them for the salt topic in their own classroom ahead of their visit. An interdisciplinary approach works best, within the framework of two to three lessons in physics, German, geography and economics, or nutrition and domestic science.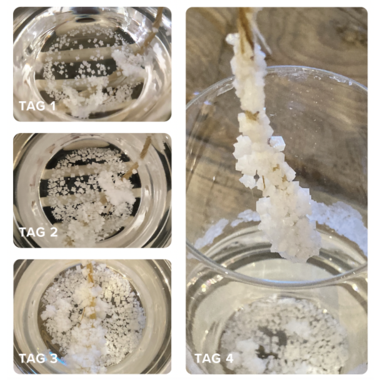 Equipped with expertise for the long term
With our five unit program, pupils have access to expert knowledge about salt even before they arrive at Salzwelten. They dive into the history of salt, various types of salt as well as their respective pros and cons, find out where salt is used, and ultimately develop an understanding for the role it plays in society as a whole. The practical component is not neglected either: Within the framework of an experimental unit entitled "Salt Detectives", our young sleuths conduct various experiments that examine flotation, colors and coins. They even get to grow salt crystals of their very own.
Optimally prepared in this way for the "Subterranean Classroom", any questions the class might still have will be answered on site by the Salzwelten guide. At the end of the excursion, the children will be asked to create their own story, put pen to paper and reflect upon their personal impressions. Ultimately, the knowledge they have accumulated will serve as the basis for future consumer competency with many positive benefits, not least for their own health. Having once comprehended the value of a top-quality Austrian salt for maintenance of good health, each and every child will be far better equipped to make a conscious decision the next time they reach for salt off the store shelf.
How about an extra pinch of salt?
Free teaching materials from Land schafft Leben
REGISTER FOR OUR SCHOOL NEWSLETTER!
Always want to keep up with the latest news from our Salzwelten locations? Special promotions and prize contests for school classes? In that case, sign up nice and easy for our new school newsletter! Plus, in our newsletter we will also serve you interesting salt-related tidbits that you can use in your own classroom.
Sign up here!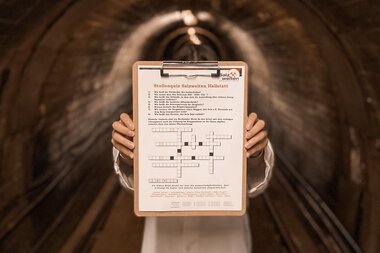 Participate in our Mine Quiz & win € 300 for your class activity fund!
Here's another small tip for our busy salt researchers: If you keep your eyes peeled during the guided tour of the salt mine, you have a chance to win € 300,-- for your class activity fund! This is how it works: Pick up the "Mine Quiz" at the Salzwelten ticket window, answer all the questions, complete the quiz and hand it back in. At the end of the year, we hold a prize drawing to determine who gets the grand prize! It pays to be smart!
---