Archaeologists in Hallstatt Adventure-craving treasure hunters? Interdisciplinary storytellers? Or highly specialized technology nerds? 
Hallstatt Salt Worlds not only offers all the ingredients for the perfect family outing, but also a more than 7,000-year history of salt mining at the world's oldest mine! This history is being researched in Hallstatt in collaboration with archaeologists from the Natural History Museum Vienna.
But who are the people digging hundreds of meters deep inside the mountain and at the grave field, searching for millennia-old traces?
Are archaeologists Hollywood-worthy adventurers? Or are they fact-focused researchers? And above all: What do finds such as bones, shards, and even excrement, tell us? Can we learn anything from them that relates to today as well as the future?
Archaeologist Dr. Hans Reschreiter was kind enough to answer our questions …
---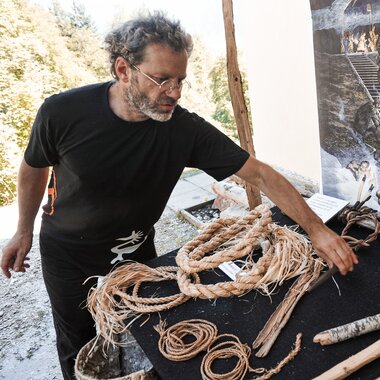 About the Person
Dr. Hans Reschreiter
Dr. Hans Reschreiter leads the excavation and research teams at the prehistoric salt mine in Hallstatt and studies the local historical landscape of mining in general. Additionally, the scientist is in charge of the Prehistoric Mining Collection at
Natural History Museum Vienna.
---
Dr. Reschreiter, this summer the new Indiana Jones movie will hit theaters.
It's the fifth installment in the film series in which an archaeologist embarks on adventurous treasure hunts and chases.
Is it fair to call you a treasure hunter?
Yes and no. Needless to say, we don't work like Indiana Jones, but we are indeed searching for treasures of knowledge, and there are plenty of them inside the Hallstatt salt mine. The salt inside the mountain has preserved many things perfectly for thousands of years that we, as archaeologists, wouldn't normally be able to find – true treasures – and we search for, and analyze them. Investigating these treasures is often like a crime story or an intrepid adventure. There are many obstacles to overcome along the way, and setbacks do occur quite frequently.
Archaeologists are almost always portrayed as adventurers. Does that do justice to your science?
Working hundreds of meters deep inside a mountain as an archaeologist is most definitely an adventure in its own right. But we don't see ourselves as adventurers – we're researchers! Research can often be a compelling adventure, especially when you're probing entirely new areas and topics. But research is also a real hard slog.
In the 18th and 19th centuries, archaeologists were primarily tasked with filling the imperial museums in
Berlin, London, and Paris with artefacts. Later, activities revolved more about questions of art history.
What is research focused on today?
In Hallstatt, we have the opportunity to reconstruct over 7,000 years of salt production by bringing together data from the prehistoric and historical mines, archives in Hallstatt, Linz, and Vienna, graves of prehistoric miners, and from the particularly revealing environmental archives. We gain insights into life and work in the distant past at a level of detail that other research groups are simply unable to achieve.
We are researching the emergence and transformation of a cultural landscape spanning the Ice Age to the present day and are fascinated to understand how the relationship between humans and the environment has changed over the past millennia.

Salt production in the Salzkammergut region was confronted with numerous challenges over the past millennia: climate crises, natural disasters, political, religious, and social upheavals, military invasions, resource shortages, epidemics, and much more. Despite these adverse conditions, salt production has not been interrupted from the Stone Age to the present day. We are researching which structures and networks are necessary to have a salt community that can withstand all these challenges. Today we are also facing tremendous challenges: war, climate crisis, resource scarcity. We need stable structures today to be able to move into the future – can we learn from the history of salt?

We see an industry revolving around salt that recognized – and accepted – the limits of forest and wood resources even 3200 years ago. It would appear that the forests in the Salzkammergut region were sustainably managed, despite the immense demands placed on wood by the saltworks, for millennia – up to the present day. We want to know why the economy in the Salzkammergut region was managed so differently compared to other mining areas.

Resource scarcity is a constant issue today. That said, we see that even over 3,000 years ago, in the Hallstatt mine, some raw materials for tools and consumables likewise became scarce, and miners were forced to switch to other resources. We research the managing and availability of resources throughout the millennia.
What prompted you to become an archaeologist? Were figures like Indiana Jones to "blame"?
In my case, it was pure coincidence. I fell asleep one dark night while I was hitchhiking through Austria – and literally woke up in the middle of an archaeological excavation …
Your field has undergone significant changes due to new technologies and methods that were previously unimaginable.
Which ones do you find particularly impressive?
For me, there are currently two areas that are extremely exciting: in communication, we see entirely new possibilities – through VR and 3D scanned objects, we can portray and convey prehistoric living and working worlds, systemic connections, complex human-environment relationships, and research into all of this, in ways that were previously very difficult if not impossible. For the Cultural Capital of Europe 2024, which will be right here in the Salzkammergut region, we want to create a virtual museum on the unique history of salt, where we try to exploit the possibilities of new communication techniques to the absolute fullest.
In research, new technologies allow us to delve even deeper into our history and understand where we come from and why we stand where we do today. Detailed analyses of sediments, dyes, pollens, DNA, proteins etc., along with many other methods, now allow us to ask entirely new questions.
Archaeology has become increasingly interdisciplinary in recent years – in other words,
collaboration between researchers from many different disciplines has become more critical to understanding the "big picture".
What do you think, how will the research field, and its significance, develop in the future?
Yes, our profession has changed significantly. Nowadays, we are much more like scientific coordinators rather than researchers who sit alone chipping away with a trowel at a dig site. In Hallstatt, we see ourselves as futurologists: we explore the past to comprehend where we come from and understand the path that brought us to where we are today – and extrapolate from that the various scenarios for what the future might look like.
In your opinion, what objects in Hallstatt have the most fascinating stories to tell?
And what are those stories?
One of the most interesting objects is actually poop - over 2700-year-old poop, in fact, that archaeologists prefer to refer to as "excrement". And why do I find it fascinating? Because excrement tells us about diet, imported luxury foods, diseases, and much more. In these pieces, we even found the oldest bleu cheese in the world.
Core samples are also fascinating. At first glance, it's just mud - sediment that has accumulated at the bottom of Lake Hallstatt. But with the aid of multiple analyses, we can read it like a history book: water temperature, earthquakes, pollen...and much more can all be found in that mud. In collaboration with our research partners, by means of these sedimentary layers we can look back more than 10,000 years to the end of the Ice Age, finding detailed evidence of the entire development and change of the Salzkammergut ever since.
What do you think is the central task of archaeology in Hallstatt?
Why all the exhausting excavations and elaborate analyses?
After all, it's just old bones and worthless shards... What do you say to someone who holds this view?
Today we live in a highly complex and interconnected world, the mechanisms of which we can no longer fully grasp. Consumption is now more important than ever. Consumption requires something to be produced beforehand. Production requires raw materials to be transformed by humans through their work, incorporating the use of energy. The finished products are then transported around the globe, consumed, then the cycle starts anew.
The area around Hallstatt is ideal for researching and communicating these mechanisms. What we are dealing with here is a model region that has revolved around the cycle of production, resources, energy, transportation, work, people, and the environment for 7,000 years. In the Salzkammergut, the basic mechanisms of our society can be broken down, researched, and communicated in a fundamental way. Understanding and accepting the connections is vital. Everything we consume, whether it's a pizza, a T-shirt, or a movie we stream - resources, people, work, and usually a lot of energy go into everything we use.
With everything we consume - whether it's food or an internet search - we are an active part of the global community, deciding how resources and energy are used and how people work under what conditions. Archaeology can contribute significantly to clarifying these global networks and showing how everything is interconnected.
What do you think would remain of our own era if people in the future were to analyze it archaeologically?
It is already clear that, due to our unchecked consumption, we have changed the planet in just a few decades. Researchers in the future will find the traces of these massive changes in all sedimentary layers and in the most remote glaciers and seas. The traces of climate change will be as striking for future generations as microplastics that penetrate every corner of the earth or land destroyed by resource exploitation. In a few decades, we will wonder how such unrestrained destruction of the very foundation of our own existence could have been possible.
Mr. Reschreiter, thank you very much for the interesting conversation.
And one final question: Will you watch the new Indiana Jones movie?
Yes, I will definitely watch the film. I want to know what image of our work is being "projected" in the movies. The great thing for us archaeologists is that there are now also many very good documentaries about archaeological work available on the internet and on TV. People understand far better that this is an interdisciplinary profession, and that we are definitely not some form of Indiana Jones or Lara Croft.
---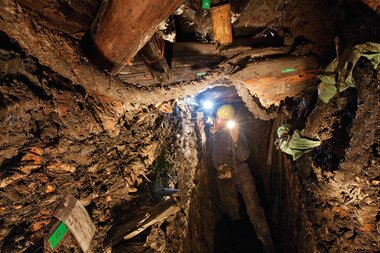 Be there live: Archaeology for insiders
If you want to learn more about the work of the archaeologists from Natural History Museum Vienna in Hallstatt, be sure to check out the
Hallstatt Research blog. You'll find yourself right in the middle of the work done by archaeologists, rather than standing off on the sidelines!
Summer 2023 Experience archaeology up close
July 3 - August 4, 2023: Mon-Thu, 10:00 a.m. - 4:00 p.m.
Peek over the archaeologists' shoulders as they excavate at the prehistoric grave field
August 14 - September 22, 2023: Mon-Thu, 10:00 a.m. - 4:00 p.m.
Observe the work of archaeologists and restorers at the "Alte Schmiede" (old forge)
September 16 & 17, 2023, 10:00 a.m. - 5:00 p.m.
Archaeology on the Mountain: Gain insights into research, make salt yourself, marvel at various finds
July & August: every Tuesday and Thursday, 10:00 a.m.
Special tour: Prehistoric Expedition – together with archaeologists, explore the oldest salt mine in the world away from the regular tour route.
July to September 10, 2023
Offer for families: Take the Bronze Age Explorer's Map and embark on an exciting journey through the Hallstatt high valley and back in time.
You can find information about all archaeology events during summer 2023 here