Salt isn't just educational – it's also lots of fun!
What is "the essence of life" exactly? What tools did people use 7000 years ago to dig for salt? What does brine taste like? And what is it exactly? Why does rock salt glisten an orangey red? And who will break the speed record on the miners' slide? Questions upon questions, all of which will be answered on a class trip to one of the three Salzwelten locations in Salzburg, Hallstatt or Altaussee!
---
Going down, please! Into the subterranean classroom…
Boring class trips are old news! Nowadays, they are way more mystical, exciting and instructive!
But where exactly? At the three Salzwelten locations in Salzburg, Hallstatt and Altaussee.
Because that's where we have moved the classroom underground! Deep inside the mountain, where people have been mining for "white gold" for roughly 7000 years, at first the Celts, later the prince-archbishops. An excursion inside the salt mine is an expedition into history, into a world of intriguing tales. With multiple opportunities to touch and participate, an experience the children will never forget. Two other benefits: A trip into the salt mine works just as well on hot days as it does in rainy weather. Meanwhile: Teachers don't have to worry about organizing a thing – we will take care of it all! Our "subterranean classroom" is suitable for elementary school children (ages 6 to 10) as well as middle school pupils (ages 11 to 15). But here's how it works:
Step 1: Select one of the three locations
Each location has its own particular theme focus: At Salzwelten Salzburg and the Kelten.Erlebnis.Berg., you will set out on an exciting journey through time spanning four eras of salt mining – in the process, learning everything there is to know about the "essence of life". Including a visit to Austria's only salt manufactory open to the general public. At Salzwelten Hallstatt, you will experience an unforgettable excursion into the depths of the world's oldest salt mine and, on the Skywalk, float high in the sky above Hallstatt. At Salzwelten Altaussee, you will descend through historic mine galleries of orangey red rock salt and learn all about the spectacular story surrounding Hitler's looted art works, hidden away in Austria's biggest still-active salt mine.
The choice is yours! Which location would you like to take your trip to?
Step 2: Consider whether you would like to book an additional offer
Our "subterranean classroom" educational program at Salzwelten lasts, depending on location, between 70 and 90 minutes. That's why, for those who are planning an all-day school trip, we have also put together exciting (also when it comes to pricing) combo packages that include other excursion destinations and sightseeing attractions in the surrounding area.
Details about the various packages can be found here:
Step 3: Reserve in advance by email or phone & save
Already know? If you reserve your school or youth group's visit with us in advance by email to info@salzwelten.at or by phoning +43 61 32 200 2400, we will be able to offer you a special price for early bookers. Also, you won't have to stand in line at the ticket window when you get here!
Reserve now!
Step 4: Submerge into the "subterranean classroom" & have lots of fun
When you arrive, not only will we dress you in special miners' outfits for your "lesson" in the subterranean classroom, you will also receive a special Salzwelten package. This contains materials appropriate to your children's ages (for age group 6-10 or 11-15).
Your package will include:
a "Salt Explorer Pouch"
different salt products
detailed information on the topic of salt
instructions for conducting different experiments
a small saltshaker for each child
a DIN A2 annual planner from the salt mine as a souvenir of this extraordinary learning opportunity deep below ground
And then it gets underway:

During an exciting tour of the mine tunnels, the class will gradually collect materials, clues and objects to put in their Salt Explorer Pouch. These will be used later during the lesson. Meanwhile, students and teachers love to race against one another on the miners' slides. Great action indeed!
REGISTER FOR OUR SCHOOL NEWSLETTER!
Always want to keep up with the latest news from our Salzwelten locations? Special promotions and prize contests for school classes? In that case, sign up nice and easy for our new school newsletter! Plus, in our newsletter we will also serve you interesting salt-related tidbits that you can use in your own classroom.
Sign up right here!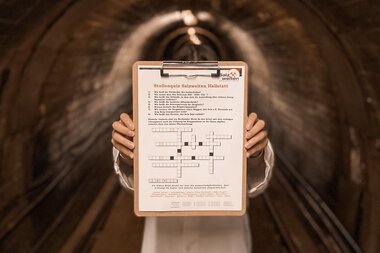 Step 5: Participate in our Mine Quiz & win € 300 for your class activity fund!
Here's another small tip for our busy salt researchers: If you keep your eyes peeled during the guided tour of the salt mine, you have a chance to win € 300,-- for your class activity fund! This is how it works: Pick up the "Mine Quiz" at the Salzwelten ticket window, answer all the questions, complete the quiz and hand it back in. At the end of the year, we will hold a prize drawing to determine who gets the grand prize! As you can see, it pays to be smart!
---
So, have we whet your curiosity? In that case, go ahead and make reservations right now for you and your school class!
Register here!