Christmas at Salzwelten Salzburg
When it isn't only the salt crystals that glisten underground, the fragrance of pine needles wafts in the air and joyful music fills the mine galleries …
We look forward to celebrating a festive Advent and Christmas season with you!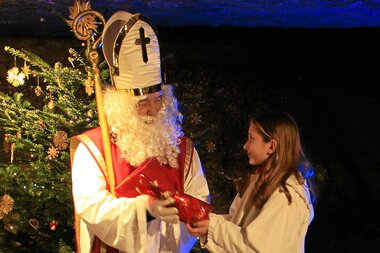 Saint Nicholas at the Salzwelten
2 & 3 December from 10 A.M. – 3 P.M.
Children beware!
Visit Saint Nicholas deep inside the salt mine.
St. Nicholas and his helper distribute small gifts to all the good children. Maybe you have
prepared a little song or a
poem for him?
Online-Tickets
The Anglöckler come to the Salt Mine
8 December at 10:30 A.M.

Embark on a melodious journey through the mine, accompanied by the Anglöckler heritage group from Kuchl. Above ground, soak in the festive atmosphere with the help of a stand serving hot punch and musicians from the Dürrnberg Miners' Band.

Note: participation limited – be sure to register in advance!
You can register here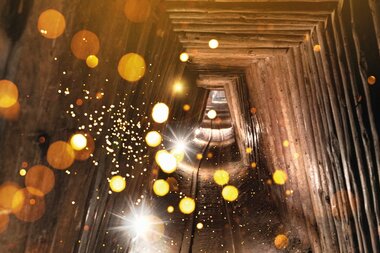 Waiting for Christkind
24 December from 10 A.M. – 3 P.M.

Even before you hear the bells jingling outside your own front door, on Christmas Eve Christkind will be flitting through the galleries of the salt mine, handing out small, salty gifts to the children.
Get your online ticket now!
Sliding into the New Year
31 December & 1 January from 10 A.M. - 3 P.M.
Enjoy an exhilarating ride down the miners' slides, straight into New Year 2024 – includes a glass of sparkling wine and a lucky talisman from the depths of the salt mine!
Online-Tickets
---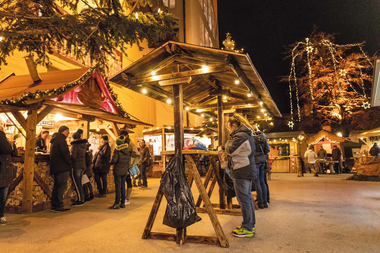 Hallein Christmas Market
Visit us on weekends from November 10 to December 17 at the Hallein Christmas Market, located on the Pernerinsel, a small island dividing the River Salzach. Salzwelten will also host a booth this year.
Why not pick up a unique, salt-themed Christmas gift for your loved ones?
Hallein Christmas Market
---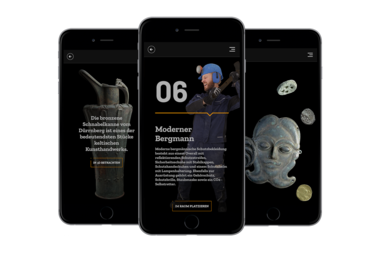 Free Bonus Service: The Salzwelten App
With our new, free app – known as the "Salzwelten Destination Guide" – you will get to experience Salzwelten Salzburg from a whole new perspective, right there on your own smartphone!
On Celtic Mountain, you can look forward to two exciting adventure games with Tam & Salia.
Want to know how to download the app for IOS or Android? Then simply go ahead and click here.
Learn more about the new Salzwelten app